Positive Intelligence®
A Mental Fitness Program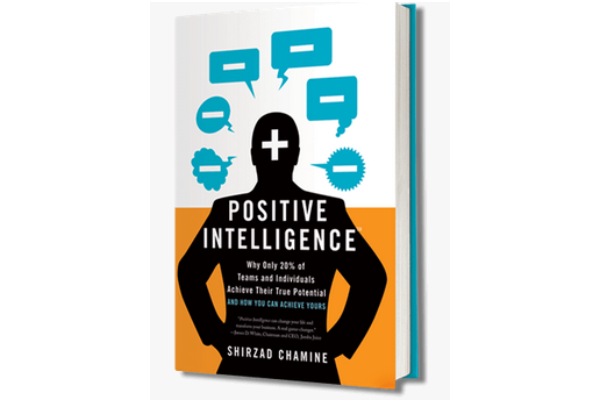 Positive Intelligence® – A Mental Fitness Program
Silencing those Nasty Judging Voices in Your Head
DO YOU:
Want to feel less stressed, more peace, and consistent happiness, even in tough times?

Want to improve your personal and professional relationships?

Want to be able to handle conflicts in ways that deepen trust and harmony?

Want to perform better while working less hard – like 'athletes in the zone'?
ARE YOU:
Committed to improving your relationships, performance and effectiveness dramatically while reducing stress?

Willing to develop a daily practice that will transform you, and your personal and professional relationships and your success and happiness? 

Willing to put in the initial time and effort to rewire years of mental habits that don't serve you?

Looking to live life with more joy, happiness and satisfaction?

Done being negative, fearful, angry, stressed, overwhelmed and STUCK?
Mental fitness/Positive Intelligence®️ is a measure of the strength of your positive mental muscles versus the negative ones. This measure of your Mental Fitness is called your Positive Intelligence Quotient (PQ) and is a synthesis of the latest breakthroughs in –
neuroscience,

cognitive and positive psychology and

performance science.
Curious about your own Positive Intelligence Quotient (PQ)?  Do your personal PQ Assessment here: https://www.positiveintelligence.com/pq-score/
Boosting your mental fitness requires building powerful new muscles in your brain, not just insight.
When you're physically fit, you can climb steep hills without physical stress. If you're mentally fit, you can handle life's great challenges without mental stress or other negative emotions.
Unfortunately, 80% of people score below the minimum level of mental fitness required for

peak performance and happiness

.

By improving your

mental fitness

you can be happier and therefore perform better.
The Mental Fitness Program works by effectively putting your mind in the gym.  Daily practice in the PQ gym builds certain neural pathways in your brain, ending unhelpful old thought patterns (known as Saboteurs) and creating new positive ones.
Curious to see how you tend to Sabotage yourself? Do your Saboteur Assessment here: https://www.positiveintelligence.com/assessments/
This Mental Fitness program will also help you develop and strengthen key psychological skills that are proven to be associated with greater happiness, fulfilment, work performance and general satisfaction in life.
The Positive Intelligence method allows you to transform the way you approach daily life (including your work) and all the challenging tasks, stresses, annoyances and uncertainties that get thrown at us on a daily basis.
When practiced over time the Mental Fitness Program produces lasting positive behaviour change.  You will experience a significant increase in happiness, productivity and improved professional and personal relationships.
After this course you will have:
Increased emotional agility

An ability to break the unconscious cycles undermining your own advancement

Mastery of mindfulness-based techniques that relax and focus your mind 

Increased stress regulation and therefore a less active stress response

Behaviour thought pattern rewiring and performance optimization

Enhanced creativity and innovative thinking skills

An ability to skilfully identify the competing commitments and behaviours that make you resistant to change

Adaptive resilience skills to negative uncertainty 

The ability to manage stress and increase the speed of recovery from failures and setbacks

An increased capacity to respond to Life's challenges with a positive rather than negative mindset
This program, designed like a mental fitness bootcamp, gives you the insights, motivation, and structure to practice 15 minutes per day for 8 weeks by combining weekly video sessions, weekly group coaching and an exclusive App to assist you with your practice.
Within 8 weeks of starting a Mental Fitness practice an increase of grey matter in the Pre-frontal cortex region of the brain is visible in MRI imaging. 
It is no wonder that the experience is often described as lifechanging.
Who is it for?
Anyone who is ready to exponentially improve their relationships, performance and happiness. We all want this on some level. 
What will I achieve as a result?
A whole new way of being that allows you to effortlessly turn every situation, environment, outcome, no matter how bad into an opportunity or a gift. A way of being that sees negative emotions like stress, anxiety, guilt and anger to be nothing but signals letting you know that something needs to change.   You learn to quickly bring yourself out of these negative emotions to respond positively. 
What's included in the program
It's nine weeks of learning and practical action. You'll watch weekly video lessons each weekend between Saturday and Monday. You'll meet with Carol and fellow pod members each week (Mondays) for group coaching to cement the weekly learning. 
From Tuesday through Friday, you access the PQ app with daily challenges to practice strengthening your mental muscle, down-regulating your saboteurs and upregulating your sage. Get daily support from your POD in the community section of the app and daily access to the mental fitness gym.
What do people say about this program?
See the testimonials below:
The 'mind control' is life changing.
What is new and life changing is the 'mind control,' the ability to 'let go' when any negative feelings take over. This program has given me the ability to be in the driver seat of my life.